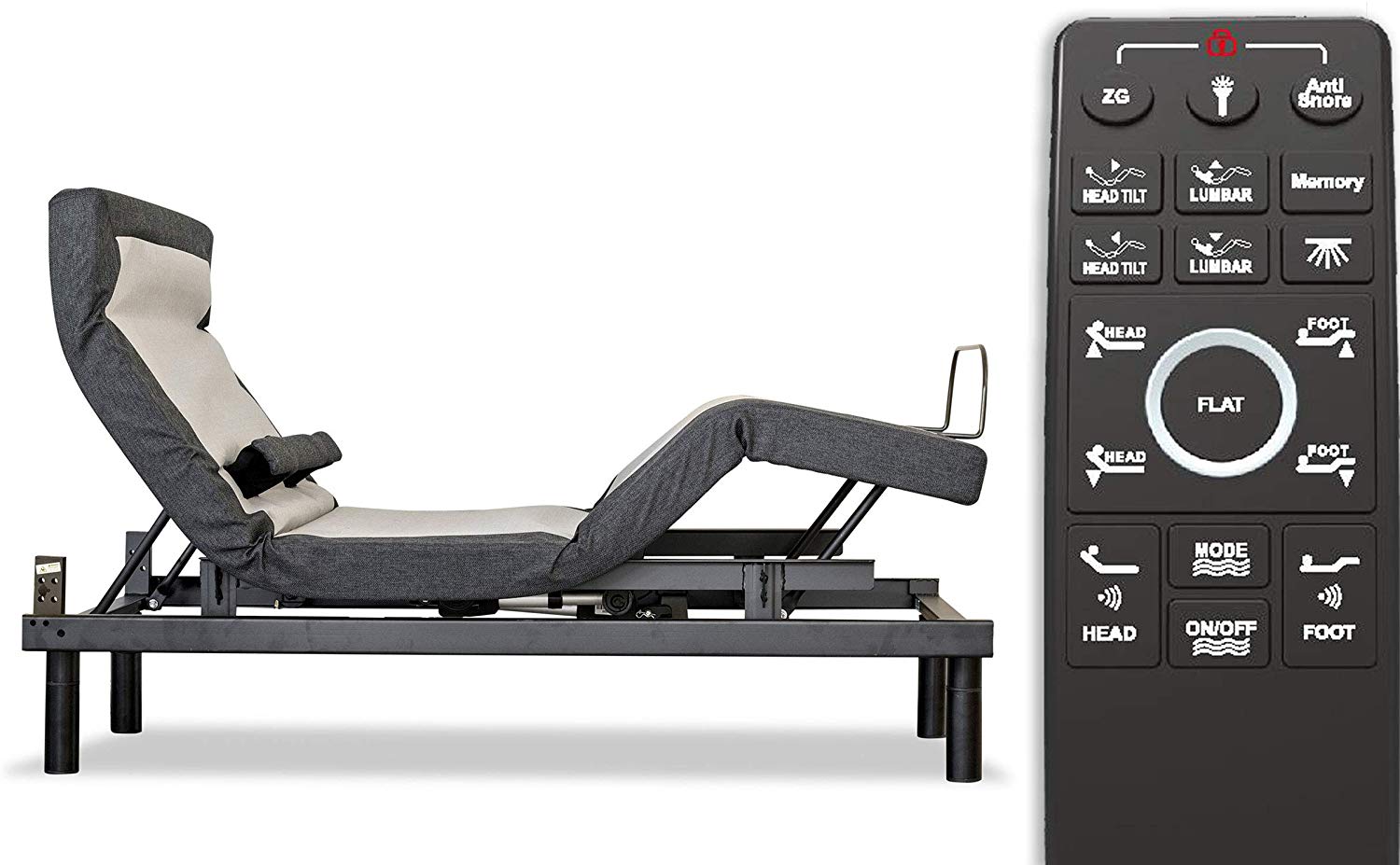 This is one of Amazon's most popular adjustable bed bases. Are you wondering why this adjustable bed base is so popular? To discover more, read our Sven & Son adjustable base review. ​
Why Need An Adjustable Bed Base?
Sleeping on an adjustable base is super comfortable and enjoyable for any person. People are buying adjustable beds for mainly comfort and as a solution of sleeping problems. It helps to people quickly fall asleep. Especially, adjustable bed bases are perfect for pregnant women, lower back pain sufferers, elderly persons, and menopausal women to sleep comfortably. Sven & Son Platinum is one of the best adjustable bases in the market right now.
Is Sven & Son Platinum Adjustable Base Worth The Money?
Well, Sven & Son is a very popular brand name in the industry. They are producing the highest quality luxury mattresses and adjustable bed bases over the years. The Sven & Son Platinum is their highest grade adjustable bed base model. It features every latest function of adjustable bed bases. Yet price-wise it costs reasonably less than most other advanced adjustable beds on the market. After considering the features, quality, and price of the Sven & Son Platinum, we can say, it is worth the money. But, Don't decide it until check full review.
Features Of Sven & Son Platinum Adjustable Base
Following figure shows the main features of Sven & Son Platinum adjustable bed frame. Let's talk about the those features deeply.
This adjustable bed base offers a great ability to raise your head and foot level in your comfort zone. It allows you to angle your head section up to 75-degrees maximum and angle your foot section up to 45-degrees maximum. Additionally, Sven & Son Platinum comes with the pillow-tilt option. It allows you to incline your head up to 7-degree angle. Pillow tilt option is the added way of fine-tuning your position to a more comfortable sleep. You can control all these adjustments by the wireless remote control.
Sven & Son Platinum adjustable base comes with the wall-hugging function. This is a very useful function to keep your body in original position while raising your head or foot section. Therefore, you don't have to reach your side table awkwardly to pick up your book or remote control.
Independent Lumbar Support & Pillow Tilt
Sven & Son Platinum is a still affordable adjustable bed base in the market. Every adjustable bed bases have not lumbar support function. Only, High-end adjustable bed features These two functions comes with the high-end adjustable bed bases like Leggett & Platt Prodigy Comfort Elite or Reverie 9T
Sven & Son platinum adjustable bed base comes with the dual massage function for upper body section and legs. So, You can get a spa-like experience with this adjustable base. The dual massage function is fully adjustable and you can select multiple massage levels as Pulse, Wave, and Full Body Vibration. Also, each massage function offers three intensities levels. You can control all the massage adjustments by the wireless remote control.
USB Ports/Under bed Lighting/Flash Light
Both sides of the bed have dual USB ports, a total four. So, you can easily charge your mobile devices using these USB ports. Also, Sven & Son Platinum bed has an under-bed lighting system. This feature is mandatory now for any adjustable bed bases. Because Manufactures identified it as very important instead of using a separate night lamp. Additionally, there is an embed flashlight on the remote control for more easiness.
This adjustable bed comes with the three preset memory positions for Flat, Zero Gravity, and Anti Snore. You can easily access these positions by using one-touch buttons of a wireless remote.
Wireless Remote & Mobile App
Fully functional wireless remote control comes with the Sven & Son platinum adjustable base. All the features of the bed can be controlled by remote control. It has 18 buttons to do that. Also, you can lock the bed using a remote. This is a very important feature for the safety of the users.
Also, this adjustable bed frame offers a mobile App for iOS & Android devices. This App includes all the functions of the bed. So, you can control the bed using a wireless remote control as well as any Apple or Android devices.
This is one of the most important features that customer need to look for when buying a premium adjustable bed base. Because, adjustable legs allows to customers change the height of the bed. Sven & Son Platinum offers 3-inch, 6-inch, and 9-inch legs.
Is This Adjustable Bed Base Safe?
Absolutely Yes, the Operating of this bed is fully safe. All electrical wires are insulated very well. Also, There is a button in the remote control to Lock/Unlock the bed to avoid misuse by kids.
Can I Use My Existing Mattress On This An Adjustable Bed base?
Yes, you can use your existing mattress with Sven & Son Platinum. But, Make sure to check the size of the mattress. Please check their mattress size guide for more info.
Does Sven & Son Offer Mattress With Their Adjustable Base?
No, But, They are selling both bed base & mattress as a bundle. It is the best way of finding a good combination.
Is Sven & Son Platinum Base Suitable For Heavy Persons?
Yes, This adjustable bed is designed for bare weight up to 850 lbs. Also, Its legs are made by heavy steel. So, this is ideal adjustable bed base for the heavy persons.
Does Sven & Son Offer White Glove Service?
Yes, they supply white-glove service to customers as added service. If you are elder or any other difficulties to install this bed yourself, you can get this service for an extra cost.
Can I Install This Bed Base Myself?
Yes, you can install this adjustable bed yourself. But, It is heavy. So, our recommendation is getting help from another person is a good idea.
I Want To Buy Adjustable Bed Frame For Me And My Partner. What Is The Best Option?
No, Actually this adjustable bed base is super quiet than other most adjustable beds that we tested.
Does This Offer Warranty?
Yes, Sven & Son offers 25-years warranty for their adjustable beds.
Do They Offer Sleep Night Trial?
 Yes, Sven & Son offers 120 nights trial period for their customers. You can try it 120 days if you unhappy you can return it and a full refund. But, they will charge return transportation costs.
Sven & Son Platinum is one of the best adjustable beds right now in the market. It comes with all the necessary features (Latest) to affordable price. Its individual pillow tilt function and individual lumbar support functions great for the fine tune your sleeping position and increase comfy.
This bed base offers both remote control and App control capability for the users. It is better to control the bed very easily for the customers. But, We will hope near future, Sven & Son will introduce smart device compatibility like Amazon Alexa or Google Home.
Finally, we want to say if you think to buy adjustable bed base, Sven & Son Platinum might be great option.
Disclosure: Any links on this page that lead to products on Amazon are affiliate links and I get paid a commission if you purchase. Thanks in advance for your support.