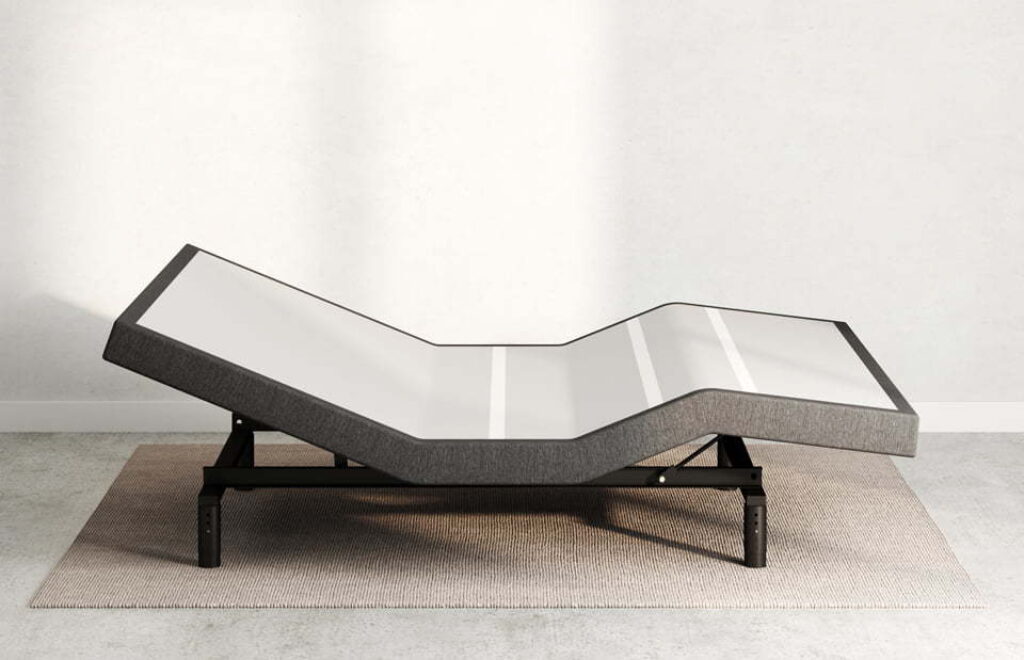 Amerisleep adjustable bed base is such a wonderful product in this range. People have a lot of trust in the Amerisleep brand over the years. I hope this review might be very helpful to people who are looking to buy Amerisleep adjustable beds.
At this moment, Amerisleep bed frame earned star ratings 4.5 out of 5 from 168 verified customer's feedbacks. Do you want to know why? Ok, let's check it out.
PROS
Most Popular Trusted Brand Name
Made in the USA
CSA-certified, UL Listed
Highly Comfortable Adjustable Bed
High Rated Verified Customer's Ratings
So Many Features Included
High-Quality Materials
Stylish Design
Low Noise
Easy To Assemble (No extra Tools Need)
20 Years Warranty
CONS
Not Offer Trial Sleep
Not Offer Lumbar Support
High Price Tag
Hare is the quick highlights about Amerisleep adjustable base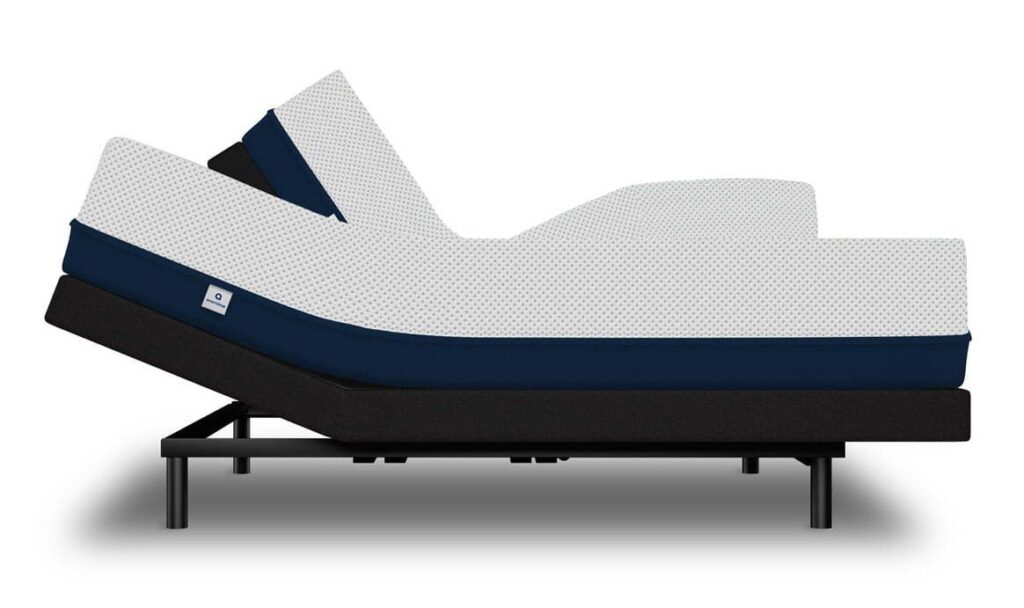 700 lbs. Max weight capacity
Wallhugger engineering design
6″ to 10″ adjustable leg height
Wireless capacitive-touch remote control
DC Motor
Apple® and select Android® mobile apps available
Programmable positions
Dual, full-body massage with wave
Pillow tilt articulation
Built-In USB ports
MicroHook™ mattress retention
Emergency power-down feature
Under-bed lighting system
20 Years warranty
Disclosure: This is an affiliate link and I get paid a commission if you purchase. Thanks in advance for your support.
To whom is Amerisleep adjustable bed base best for?
Adjustable bed bases are normally benefited for anyone. If you have an adjustable bed you can sleep comfortably than sleep on a traditional bed. But I have done more focus than normal benefits.
Side, back, and stomach sleepers
People who are looking for high-end adjustable beds
People who need better sleep more than regular
Pregnant women
People who suffer lower back pain
People who have GERD, acid reflux, heartburn, and other digestive issues
People who are doing snore while sleep
People who regularly watching TV or reading a book before bed
An elder person who difficult to move
People who are looking to buy an adjustable bed base and mattress in the same brand
To whom is this adjustable bed base not suitable?
People who are looking at low price adjustable bed bases
People who need to use a trial period before an actual purchase
You can fall asleep very quickly with Amerisleep adjustable bed. It is a very comfortable and luxury adjustable bed frame. You will feel your stress and pressure points relieved quickly after raising your head and foot position. Check their promotional video to get a clear idea about the bed.
What are the sizes of the Amerisleep adjustable bed bases?
Amerisleep adjustable bed made by the highest quality materials in the USA. If you want, you can use it insides existing furniture or frame. Also, it offers height adjustable four legs. Then you can adjust the bed height from the floor between 14″ – 18″.
Amerisleep offers four main size adjustable beds.
What are the angles of head tilt and foot tilt?
Head lift angle: 58° / Foot lift angle: 44°
What are the main features of Amerisleep adjustable bed frame?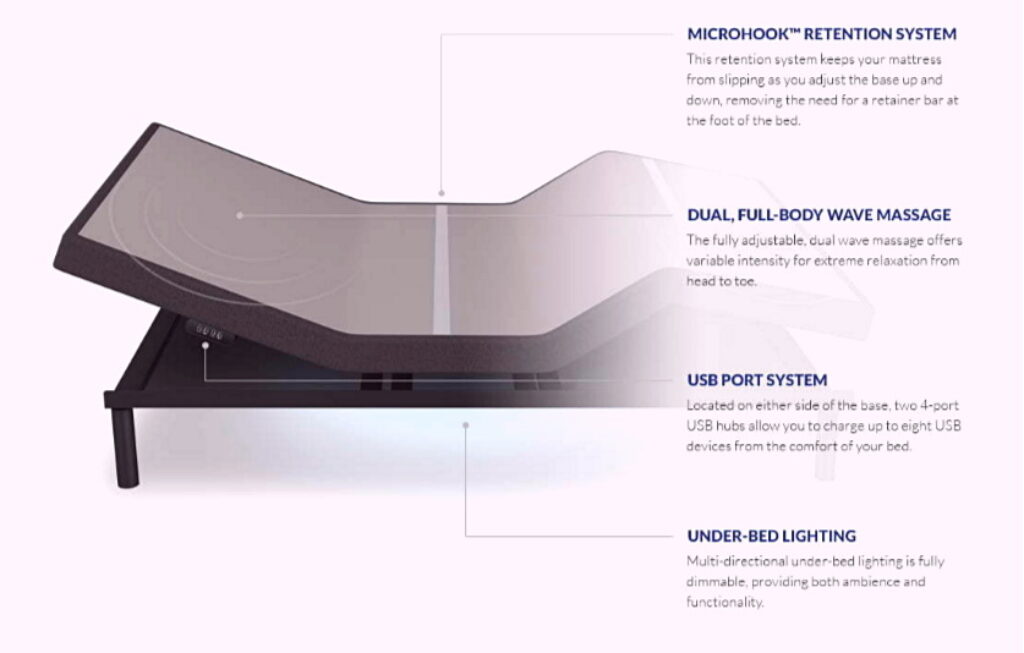 Disclosure: This is an affiliate link and I get paid a commission if you purchase. Thanks in advance for your support.
Microhook Retention System
This adjustable bed comes with a microhook retention system. It located the top face on the bed frame. It is very helpful to preventing the slide of the mattress while the head and foot raise. This advanced technology removes the necessity of the retainer bars and gives a stylish look to the bed base.
Dual Full Body Wave Massage
I really like its built-in dual full-body wave massage system. It is very helpful to improve circulation and relaxes muscles. You can start the massage function for the head and foot section individually or together by the wireless remote control or mobile App. Also, you can adjust the intensity level of the massage both App and remote control. ( Massage has 3 speeds: Low, Medium, and High).This massage system programmed to automatically stop after 15 minutes.
Pillow-tilt Articulation
Every adjustable bed frame has not this feature. That is mean pillow-tilt option comes with mostly high-end adjustable bed bases. The pillow-tilt option provides the ability to extra adjustment of the head more than the main head section adjustment. This is bringing extra comfort for the users. It is very helpful while you read, work, or watch TV in bed. You can control this option from the remote control and App.
Built-In USB Ports
There are total eight USB ports of this adjustable bed base. Each side of the bed has 4 USB ports. So, you can charge up to eight USB devices from this Amerisleep adjustable base.
Underbed Lighting System
This is one of the most promising features of the adjustable bed bases. Luckily, Amerisleep adjustable base comes with the under-bed lighting system. It provides ambiance and functionality. As an example, With this feature, you can go to the bathroom without disturbing your partner (without turning on bright lights) in the middle of the night. You can control this LED under-bed lighting system both wireless remote control and App.
Wallhugger Engineering
This is another great feature that comes with the Amerisleep adjustable bed base. This feature enables the ability to reach your bed desk though after adjusting the bed angles. Wallhugger feature is more helpful for the elder persons & injured persons who can't move.
Capacitive Touch Remote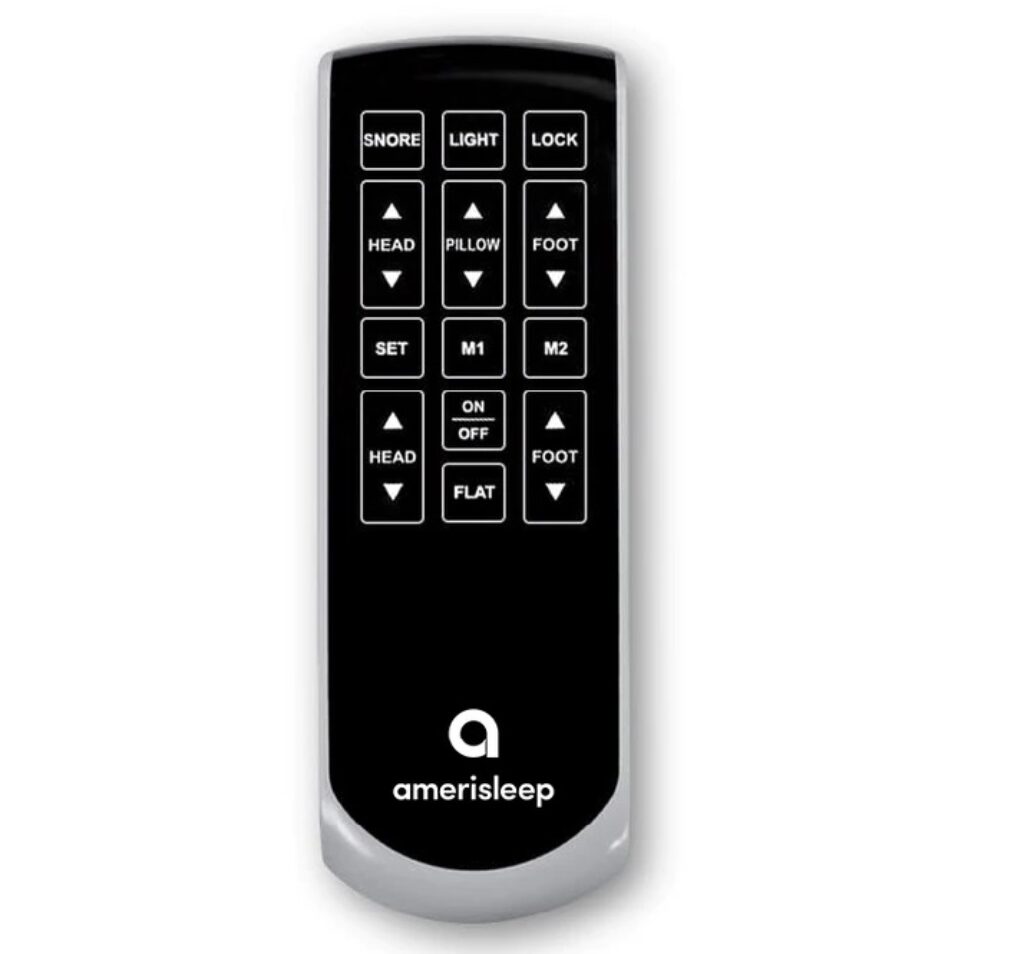 The Amerisleep Adjustable base comes with the industry's first capacitive-touch remote control. The wireless remote control offers many features including programmable positions and a snore button. Also, there is button to lock/unlock the remote for safety purposes. A convenient table-top holder for the remote is included to keep comfort within your reach.
App Control
How nice adjusting your bed base from the smartphone? Amerisleep offers a bed control App for both Android and Apple devices. With this function, Amerisleep adjustable bed comes to the new level with more flexible functions such as a sleep timer, a gentle-wake alarm, massage wave, and more.
Preset/Programmable Position
This adjustable bed comes two programmable positions on remote and four on the App. It allows you to quickly come to some preset positions like zero-gravity position & anti-snore position.
What are the mattresses compatible with Amerisleep adjustable bed?
Normally, Any memory foam, latex, and hybrid mattress can be used with the adjustable bed. If you already have correct size of an above mattress, you can use it with Amerisleep adjustable bed.
But, if you are planning to buy a new mattress for your new adjustable bed, we highly recommended buying both an adjustable bed and mattress together from the same supplier to avoid some unsuitability.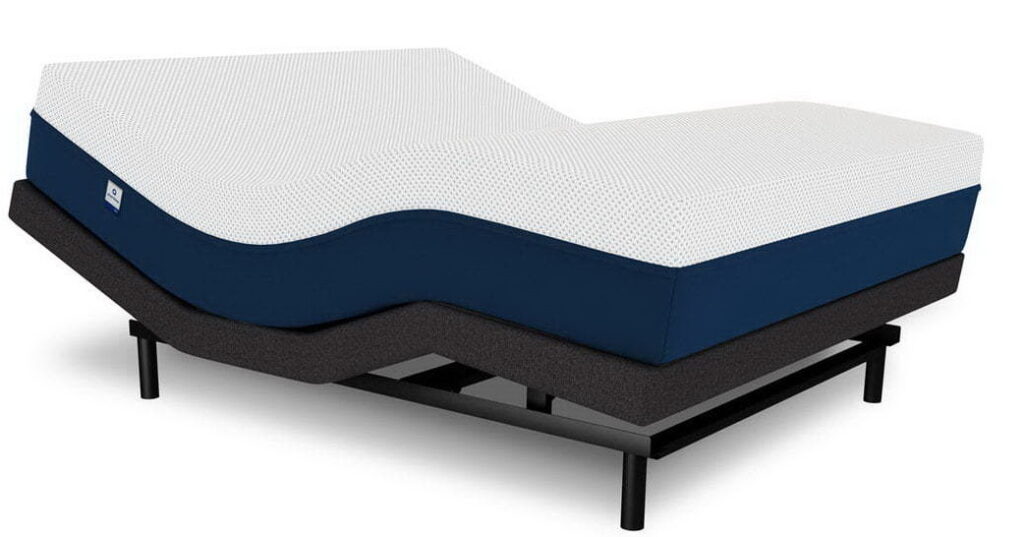 Currently Amerisleep offer bed package (Adjustable bed+Mattress) in affordable price. You can choose the correct firmness level mattress while buying the Amerisleep Bed Package.
Disclosure: This is an affiliate link and I get paid a commission if you purchase. Thanks in advance for your support.
Final Verdict
Amerisleep adjustable bed is one of the top adjustable bases in the market at this moment of write. Its price is high a little bit, but every important features are included in this bed frame. This adjustable bed made in the United States Of America. So, without a doubt, we can recommend its quality. Visit here their store to check more information and verified customers' feedbacks.
Disclosure: Any links on this page that lead to products are affiliate links and I get paid a commission if you purchase. Thanks in advance for your support.