Adjustable bed frames are the future of sleep. They allow us to read, work, and watch TV while laying on the bed. The main function of adjustable bed bases is changing the head and foot angles individually, or both together for users' comfortability. But, the latest adjustable bed frames offer other additional functions such as pillow tilt, full body massage, lumbar support, preset memory positions, wireless remote, under-bed light, and many more.
When talking about the best adjustable bed bases, we can't neglect the Dreamcloud adjustable bed frame. Because Dreamcloud is one of the biggest and popular bedding companies in the world. Also, they are making affordable adjustable bed frames with very good features. Let's look at the features of Dreamcloud.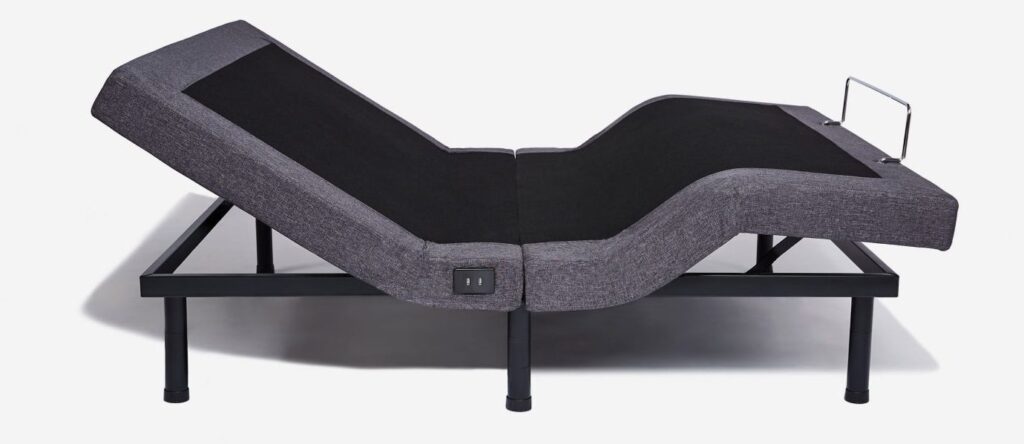 Why you should buy it?
Affordable price
5 Sizes: Twin XL, Full, Queen, King, Split King
Offer 50 Day night trial
3 Years warranty
Free shipping & returns
Financing available
Disclosure: This is an affiliate link and I get paid a commission if you purchase. Thanks in advance for your support.
Buying Guide Of Dreamcloud Adjustable Bed Frame
In this review, I will hope to discuss the areas such as construction, main features, bed setup, and cost.
Who is the Dreamcloud?
Dreamcloud is one of the top brand names in the bedding industry located in the USA. They are producing high-quality mattresses, bed bases and frames, and other bedding products. When talking about their adjustable bases, So far, they have got 4.2 customer rating out of 5 from their 179 verified customers.
What sizes of adjustable bed frames do they offer?
Dreamcloud offer five different sizes of adjustable bed frames
Twin XL – 39″x80″x15″ (Best for Single Adults or Children)
Full – 54″x80″x15″ (Best for Single Adults, Children, Sleepers with pet or child)
Queen – 60″x80″x15″ (Best for Couples, Couples with Children, Couples with a pet)
King – 76″x80″x15″ (Best for Couples, Couples with Children, Couples with pets)
Split King – 78″x80″x15″ (Best for Couples, Couples with Children, Couples with pets)
Construction
I must say, Dreamcloud adjustable bed frame has high-quality high durable solid construction compare with other brands. The legs and frame made of heavy metal, so the bed is a bit heavy and well balanced. There are six legs in a single bed and the legs have three height options. However, the 15-inch height of legs provides great space under the bed section.
This adjustable bed is very comfortable even though most of the parts were made using solid metals. So, you can use it with or without a mattress. According to your buying size, you can use any mattress brand with it (related to your bed size).
It comes with a mattress retainer bar to avoid slipping the mattress when adjusting the bed angles. There are two individual motors comes with the bed for head and foot incline
The whole bed is very easy to set up with its clear instruction manual. You won't miss the wiring with the provided color code. I couldn't found the actual weight capacity of this bed. But I can be guaranteed, it is suitable for any size of the person.
It has almost noiseless operation for any wight of person.
Features
3 Preset Memory Position
It allows you to preset three memory positions. So, you can quickly come to your favorite position from the flat position. Also, its wireless remote control allows you to raise the head up and feet up separately, or together. Inclining your upper body can reduce potential snoring and relieve indigestion. When your lower body is raised it can improve circulation and ease the pain.
Zero Gravity Position
Most people buying the adjustable bed bases to get advantage of this position. When you sleeping in zero gravity position, you feel like floating. It was discovered by NASA to use astronauts in space for thier body alignment and support.
Head and Foot Massage with Three Intensity Levels
This is one of the amazing features of relaxing your body. It provides head and foot massage separately or both together with three massage intensity levels. All the massage features can be controlled easily from the wireless remote.
02 USB Ports
There are two USB ports located on one side of the bed to recharge your phone, tablet, or any other devices while you sleep on the bed. This is a very useful and promising feature of the latest adjustable bed bases.
Wireless Remote
Wireless remote control is the only way of control this bed. It comes with the fully functional wireless remote control. I am not going to explain about its buttons deeply because those are easy to understand anyone.
Adjustable Bed Frame Setup
It is very easy to set up even a limited technical knowledge. You can assemble this adjustable bed without additional tools and equipment within 15 to 30 minutes. However, this bed is a little heavy, and old ages persons need others support for carry and assemble it.
Check this YouTube video to know about more info for assembling the Dreamcloud adjustable frame,
Price
I am really happy about the price range they offer. It is very affordable compare with other brands. At this moment of writing, the prices as follows,
Twin XL Bed Frame- $649
Full Bed Frame – $699
Queen Bed Frame – $799
King Bed Frame – $1298
Split King Bed Frame -$1298
Pros & Cons
Pros
Reputed brand name
Offer 50 days trial
Affordable price
Work with any foam, latex, or air mattress
Leg height adjustable
Massage function
High quality & Well construction
Free shipping & free return (If not satisfied offers full refund)
3 Year Warranty
Financing available for the people who have no money to pay at once
Cons
Selling to USA only
No pillow tilt
Some assembly required
Heavy
No under-bed lighting system
No wall hugger feature
No Mobile APP control
Final Verdict
Overall, it is one of the best adjustable bed frames in the market. Yes, it has not some high-end features like lumbar support, pillow tilt, app control, but, overall it has every basic feature like preset position, customizable settings, Zero-G, massage function, USB charging ports, mattress retainer bar, and height-adjustable legs to fulfill your requirement.
So, I believe, it is great value for the money.
Disclosure: This is an affiliate link and I get paid a commission if you purchase. Thanks in advance for your support.